OUR MISSION STATEMENT:  THE SAVING OF LIVES, THE PROTECTION OF PROPERTY FROM FIRES AND OTHER DISASTERS, MEDICAL RESCUE, WATER RESCUE AND PROMOTING THE TEACHINGS AND PRINCIPLES OF FIRE PROTECTION AND PREVENTION.  
The St. George Island Volunteer Fire Department is a 24-member, volunteer, non-profit fire, rescue and EMS department with a primary response area of St. George Island, Florida.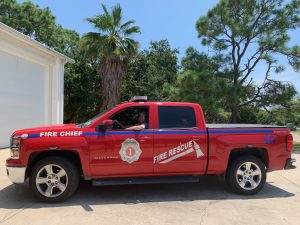 We are fortunate to have a very dedicated volunteer membership — volunteers providing fire, rescue, EMS, administrative and support service to our community every month. Interested in volunteering with the SGIVFD? Click here to contact us.
BRIEF HISTORY OF THE SAINT GEORGE ISLAND VOLUNTEER FIRE DEPARTMENT.
The SGIVFD had its origins of necessity, commencing around 1975 when Walter Castle, known as Sarge, provided a 1953 GMC Army Transport vehicle to attempt to provide some form of fire prevention to a then sparsely populated island.  The true impetus began in 1977 when a trailer occupied by a then fireman, W.K. Sanders, burned.  True discussions where initiated that a fire department was necessary and Ronnie Bloodworth, who owned a four-wheel drive vehicle, took the lead and a 500-gallon gas pump was attached, which was like a lawnmower motor.  A warning system was begun with a siren which had to be activated daily in an effort to prevent rust, and the air raid siren was set off each day around noon.
Next in procession, was the institution of a "real Chief" John Lutrell and the establishment of the first enclosed firehouse on the beach.  A hose reel was attached to the fire vehicle which exceed the height of the firehouse preventing the truck from exiting the firehouse until the sand was dug out on Gulf Beach Drive.
Then, in 1981, Mason Bean became chief, the department acquired a firetruck for $30,000 and a firehouse was built on East Pine Avenue across from the present firehouse.  Gene Brown and John Stocks donated the land.  As in all the early efforts, Alice Collins was instrumental in providing time, funding and providing materials.  The firehouse was built by Mason's company, Bean Builders.  Also at this time the first hat drive was begun to raise funds.  All was done by hand by volunteers.  There was a pyramid phone system which was created to summon the volunteers which at this time consisted of 12 firemen.  Bruce Dryer was very instrumental in the creation of the fire department at that time.
In 1991 a lighting strike hit Collins Realty which acted as a town hall which burned the structure to the ground.  They acquisition of a true firetruck took place. Truck # 1.  Jay Abbott came on the force as Chief, a position he held till 2018.
Through fund raising effects such as the Chili Cook Off, the Hat Drive and other charitable projects the department has grown to its present status.  In 1989 MSBU Funds helped fund the operations of the department.
As of today we have two fire stations East and West.  Four firetrucks consisting of one 105-foot ladder truck, one 2500-gallon Class A tanker pumper, one 1000-gallon Class A tanker pumper, one brush truck with foam, two rescue vehicles, one water rescue jet ski and one ATV.
In July